Protein Drink Mix Select: Natural Vanilla 616g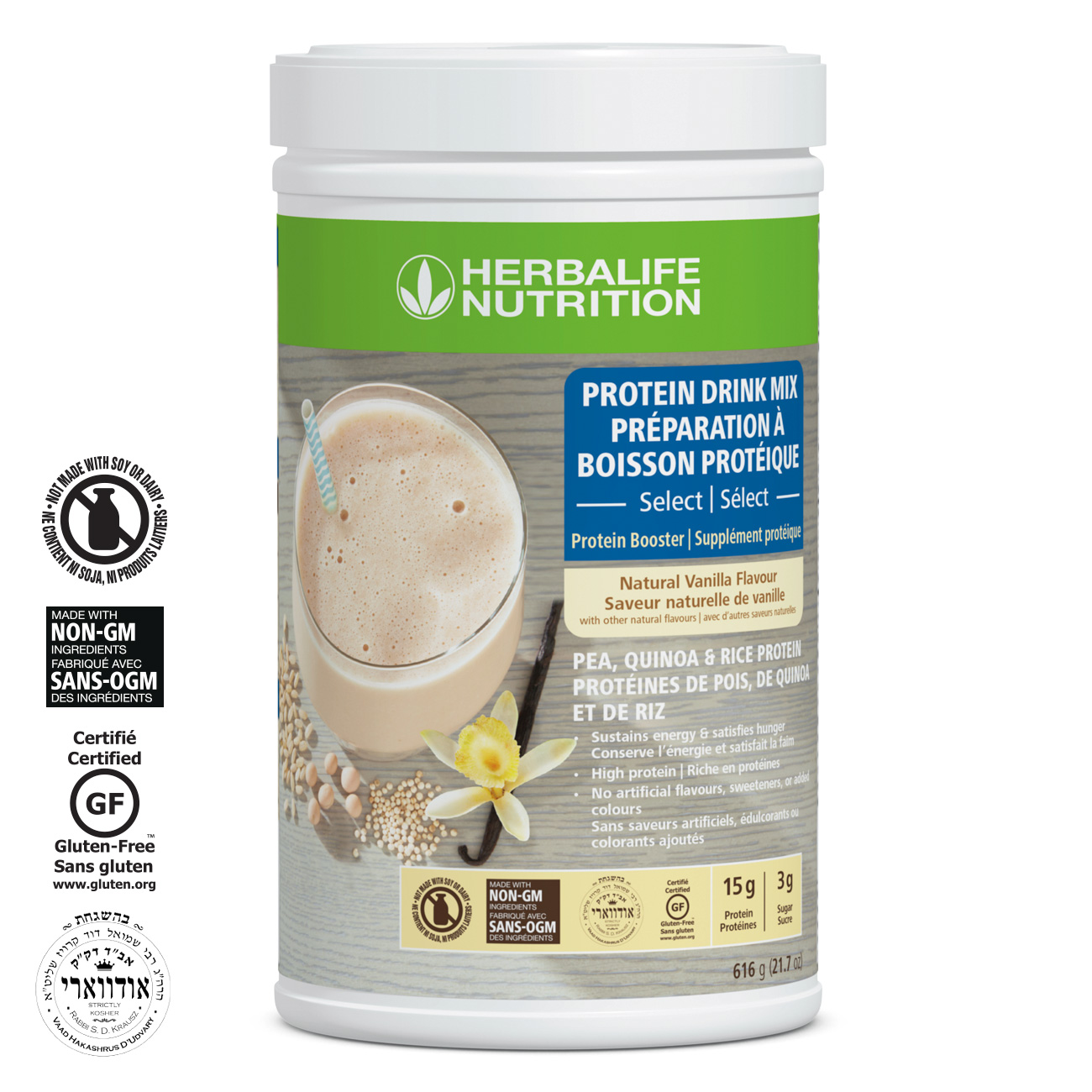 SKU 1627
Price $97.80
Overview
Boost your protein intake with Protein Drink Mix Select, a naturally wholesome shake with a delicious vanilla flavour. Specially formulated with a plant-based blend of pea, quinoa and rice proteins and crafted to meet your evolving nutritional needs, Protein Drink Mix Select is made with quality, non-GM ingredients.
Protein is vital to a healthy diet, as it's one of the essential building blocks for many cellular components in your body. Protein helps satisfy hunger, build muscle tissue, maintain lean muscle and give you energy. Add Protein Drink Mix Select to your Formula 1 Select Meal Replacement to boost your protein intake to 25 g per serving, or enjoy as a nutritious snack.
Key Benefits
15 g of plant-based protein (pea, rice & quinoa)
3 g of sugar
No artificial flavours, sweeteners, or added colors
Made with non-GM ingredients
Kosher certified
Suitable for vegans*
Suitable for diabetics†
Usage
Gently shake the canister prior to each use, as contents may settle
Blend or stir 2 scoops of Protein Drink Mix Select with 250 ml of cold water and enjoy!
Add 2 scoops (one serving) of Protein Drink Mix Select to Formula 1 Select Meal Replacement and blend or stir with 250 ml of water to boost your total protein intake to 25 g
*Products that contain no animal or animal by-products whatsoever, including dairy and eggs. No animal ingredients or by-products are used in the manufacturing process and no animal testing is performed on the final product.
†Herbalife Nutrition®-MD products do not treat diabetes, but diabetics can use them.